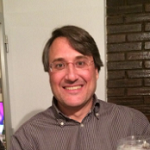 The data is the main asset of patients, the portal is designed as a tool to collect, bring together such data, and put them in value. It will also allow patients to have better conversations their doctors and get better treatment options. Our goal is that data can feed the scientific community and industry so they can develop new and better treatments.
Ignacio Carrera
Chairman of Dravet Syndrome Foundation & Father affected

With this tool we can create reports on the evolution of her seizures, drugs, and also allows sharing with your neurologist. It is a graphic and simple way to have all the data at hand.
Pablo Guilmain
Father affected

I am a user of patient portal, a very handy tool in every way.
Lydia Corral
Mother affected